There's nothing like spending a night or two (or three...) on a quiet stretch of beach, along a roaring river, or in the middle of a small clearing overlooking snow-capped mountains. Recently, we've had a particularly good run of wild camps. Heading north through South America we've camped by mirror-like fjords, placid lakes, and most recently under a canopy of stars so spectacular words can't describe it. Ah, but this post isn't about an idyllic bush camp tucked away in some wild and wonderful corner of the world. It's about the wild camps' less glamorous - and often more memorable - black sheep cousin. The emergency fall-back campsite. Those places we call home when we fail to find anywhere else. Places like a whorehouse in Angola, or sandy patch of ground in nowhere Mauritania, so riddled with dirty diapers we're still picking shit out of our shoes.
This week, we feature one of our South American fall-back favorites. Free camping at gas stations. Recently we've been doing a lot of gas station free camping. Four times in the past two weeks alone. These photos were captured last week at a Copec on Ruta 5 a few hundred kilometers south of Santiago, Chile.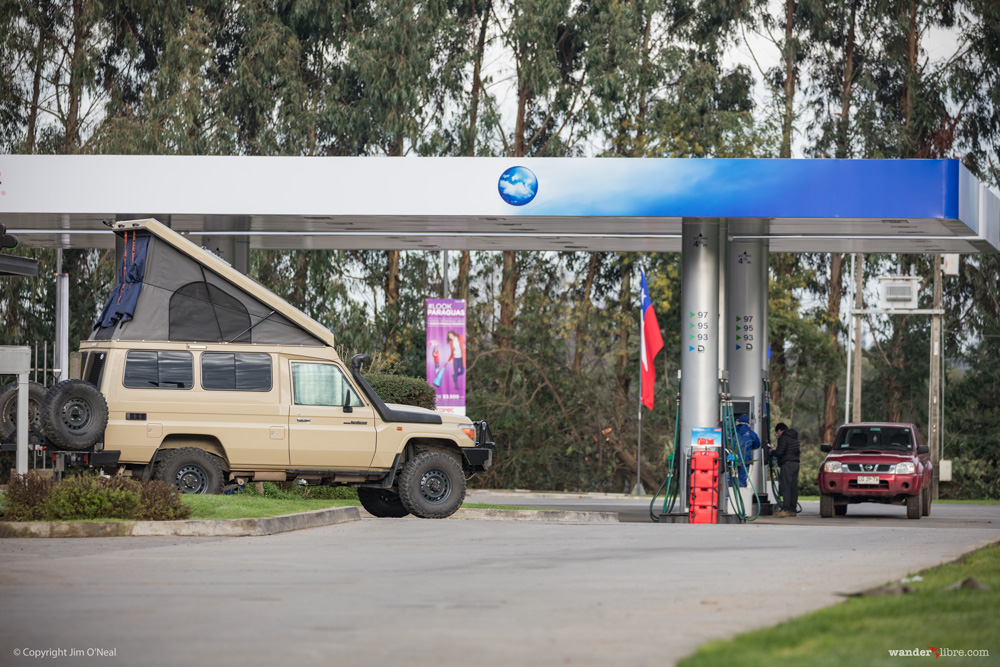 Copec gas stations feature a list of amenities so long a KOA would turn green with envy. Home of the $500 peso warm (ish) shower. Complimentary parking. Free hyper fast - like AOL dial-up 'You've Got Mail' but can't download it fast - wifi. Complimentary drinking water. Personal 24-hour fuel concierge. And best of all - free air for your leaky tires.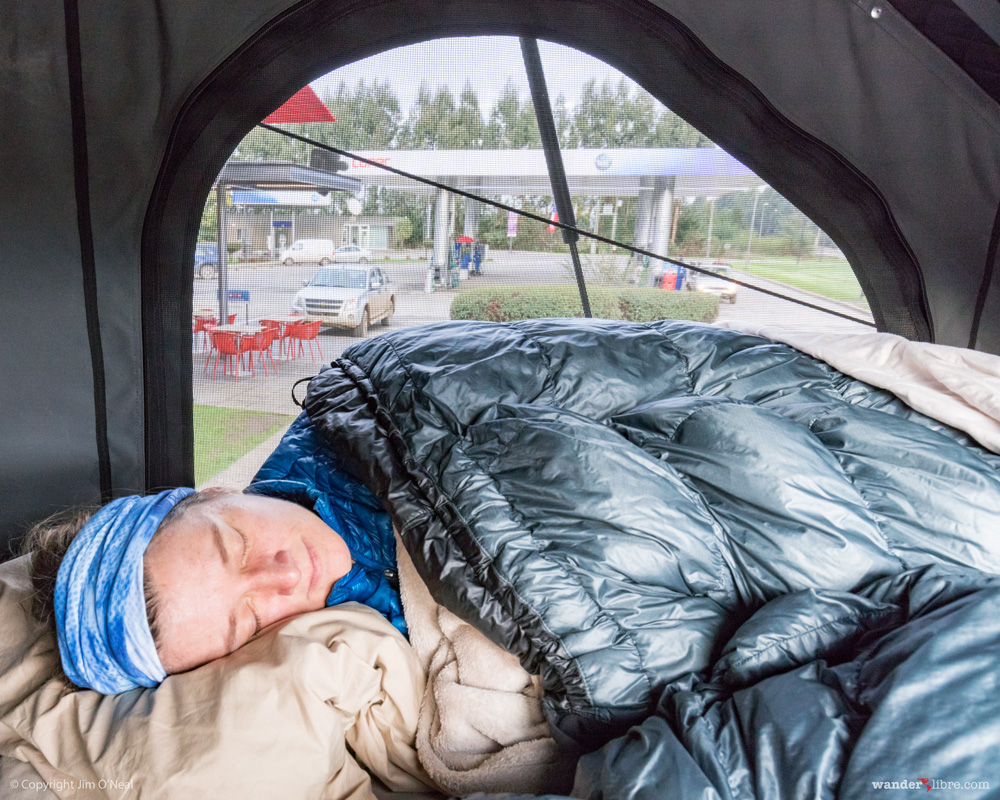 Sound enticing? Indeed it is! Imagine spending a restful night in the parking lot equivalent of 40 bunk dorm where your roommates are heavy trucks coming and going throughout the night. Imagine drifting peacefully off to sleep to the gentle drone of three dozen truck engines, and waking bolt upright to the beep-beep-beep of a giant semi backing straight towards our Tonka toy sized Land Cruiser. And best of all, imagine waking up to the aromatic smell of freshly pumped diesel. Only the scent of freshly ground espresso gets us going faster.
Gas station free camping is living the dream when the dream shifts from watching sunsets on white sand beaches to procuring a safe place to hang your hat for the night. "Please God let us make it through the night without being raped or murdered and I promise we'll spring for a hostel tomorrow!" Not sold? Stay tuned as we share more great camping gems. In the coming weeks, we'll tell tales of camping with drunken UN soldiers in Uganda, cheeky baboons in Botswana, and ornery camels in Mauritania.