Ever since we were young, we've longed to be in the mountains. Perhaps it's a love affair rooted in our upbringing along the Atlantic coast and a longing to explore somewhere different. Or perhaps it's more directly tied to our passion for skiing, trail running, and pretty much any outdoor pursuit enhanced or challenged by gravity. Regardless of the origin, it's a love affair that's only grown deeper over the years – fueled by past stints living and playing in places like the Rockies and Sierras. With this as background, it'll come as no surprise that when we set off to explore South America, we were excited about the prospects of hiking the Andes. And high on our list of hikes was Laguna de Los Tres to Mount Fitz Roy – a much-anticipated walk that not only exceeded our expectations but stands among our all-time favorite hikes – anywhere.
With that in mind, we'd like to share our experience and provide some tips on how you can do it better. Here's what you'll find in this post:
• Intro to El Chalten – staging point for Laguna de Los Tres.
• Hiking Laguna de Los Tres
• How to Make the Most of Your Trip
• Planning & Logistics
• What to Pack
El Chalten
Along with Torres del Paine and Cerro Castillo in Chile and Bariloche in Argentina, El Chalten has a deserved reputation as one of the world's great trekking destinations. Located alongside Las Glaciares National Park, a Unesco World Heritage Site, El Chalten sits in a picturesque setting flanked by the Rio de las Vueltas to the east and Mount Torre and Mount Fitz Roy mountains to the west. While tiny in comparison to the tourist hub of El Calafate (130 miles to the south), El Chalten is a purpose-built tourist town that serves as a base for exploring the endless miles of hiking and climbing opportunities in the area. Tourist services include a friendly and helpful English speaking visitors center, a bus station, a couple of ATM's, small service station, a handful of basic grocery stores, several restaurants, nice hostels, hiking stores with equipment rentals, and widely available - albeit slow - internet.
El Chalten's biggest asset, however, is its location. Situated at the base of Mount Torre and Mount Fitz Roy, the area's most popular walking trails start right from town, which makes hiking Laguna de los Tres and other trails blissfully simple. Just step outside your hostel, walk a couple of blocks to the trailhead, and you're on your way. No transportation drop-offs/pick-ups to arrange or secure parking to worry about. And when you return, the end of the trailhead is just meters away from the closest après-hike watering hole.
Hiking Laguna de Los Tres
Quick Facts:
Destination: A Mirror-Like Lagoon with Spectacular Views of Mount Fitz Roy, Poincenot, & Saint-Exupery
Time to Complete: 8-10 hours (we completed in a leisurely 8 ½ hrs)
Distance: 14 miles / 22 km
Difficulty: Moderate (2 Steep Climbs)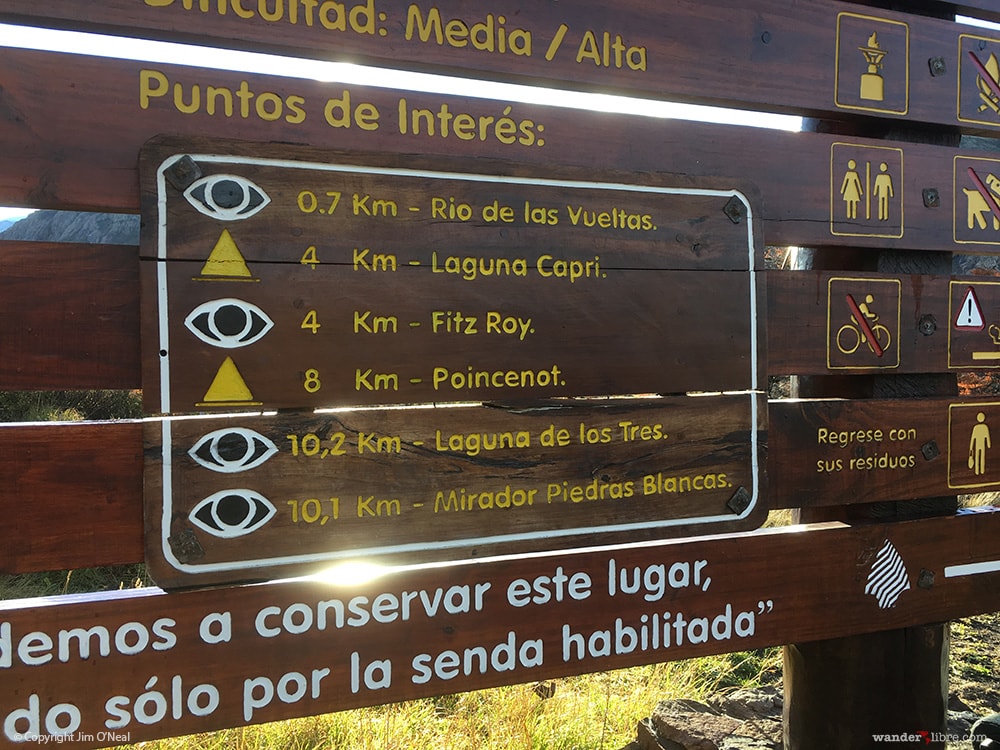 El Chalten is flush with world class hiking trails. Walks range from short hikes to scenic viewpoints to strenuous multi-day treks to the Southern Patagonian Ice Field. It's the type of place where it's easy to spend a week, month, or more hiking and climbing your way through the surrounding mountains. We arrived in El Chalten in early May – late in the trekking season but before winter set in. This timing proved both good and bad. On the one hand, our late arrival meant we missed the large numbers of hikers and infamous Patagonian winds prevalent earlier in the season. We also received some light snow, which cast Mount Fitz Roy and Laguna de Los Tres in a picture-perfect blanket of white. On the other hand, we missed the long summer days as well as the beautiful fall colors we enjoyed in Torres del Paine only a week before.
When we arrived in El Chalten, it was raining, and Mount Fitz Roy's majestic head was buried beneath a thick blanket of low clouds. In fact, there was no sign of El Chalten's famous mountain backdrop. It took five days for the rains to stop and the clouds to clear.  Time we spent exploring the pristine landscape of fast flowing rivers, turquoise lakes, verdant forests, and tumbling waterfalls that runs from Los Glaciares National Park to Lago del Desierto. Not a bad way to wait out the rains.
On May 4th, the clouds lifted revealing El Chalten's mountain magic. When I walked outside our hostel and saw Mount Fitz Roy cast against a bright blue sky, I was impressed...surprised really. After five days of rain, I started to wonder if we'd see Fitz Roy. I wasn't alone. The whole town seemed to be outside staring up at the El Chalten's magnificent mountain backdrop. The wait was worth it. It felt a bit like one of those sci-fi thrillers where aliens invade a city, and everyone's staring into the heavens – mouths agape.
We felt inspired. The weather was perfect. Cool and calm with crystal clear skies, we were eager to hike and raced to ready ourselves before running out the door. Caught a bit flat-footed by the quick change in weather, we didn't hit the trail until 10:20 a.m. It was far from an ideal start given the shorter fall days that promised sunset by 6:35 p.m. A short walk through town and we were at the Laguna de Los Tres trailhead and on our way. The trail starts with a steady climb through the forest before revealing a magnificent view of Rio de las Vueltas at km 0.7.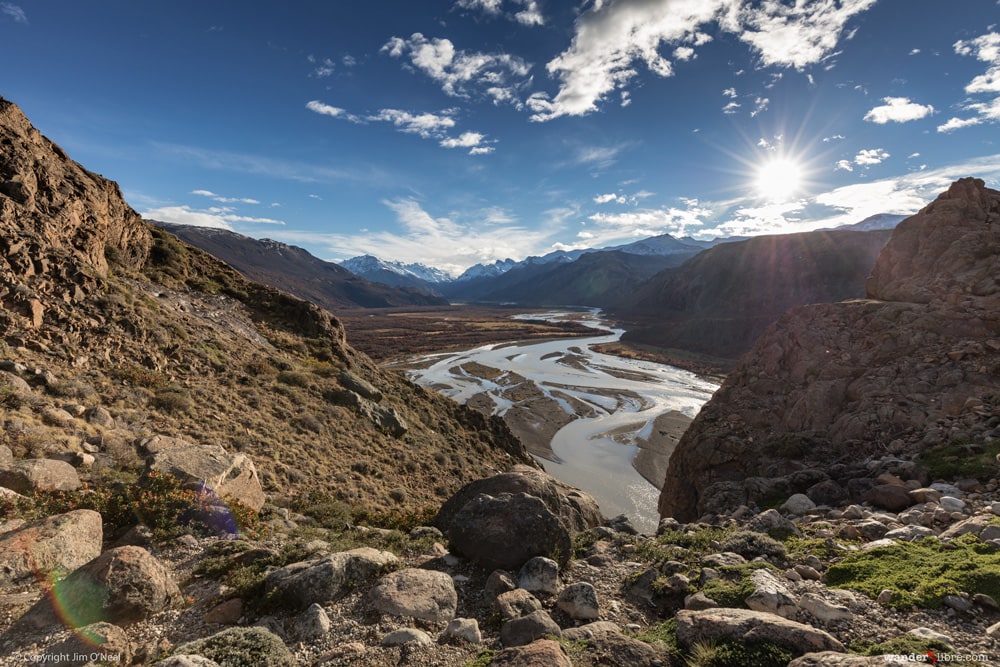 From the lookout, the trail soon levels out a bit before passing a small waterfall and reaching km 4.0. At km 4.0 there's another lookout that offers the first views of Mount Fitz Roy. Not expecting the spectacular view, I came around the corner and let out a slight gasp. Ahead was Fitz Roy, dominating the landscape - it was awesome. A few minutes later, a couple from Singapore rounded the corner with a "Holy Shit!" That sums up the view perfectly.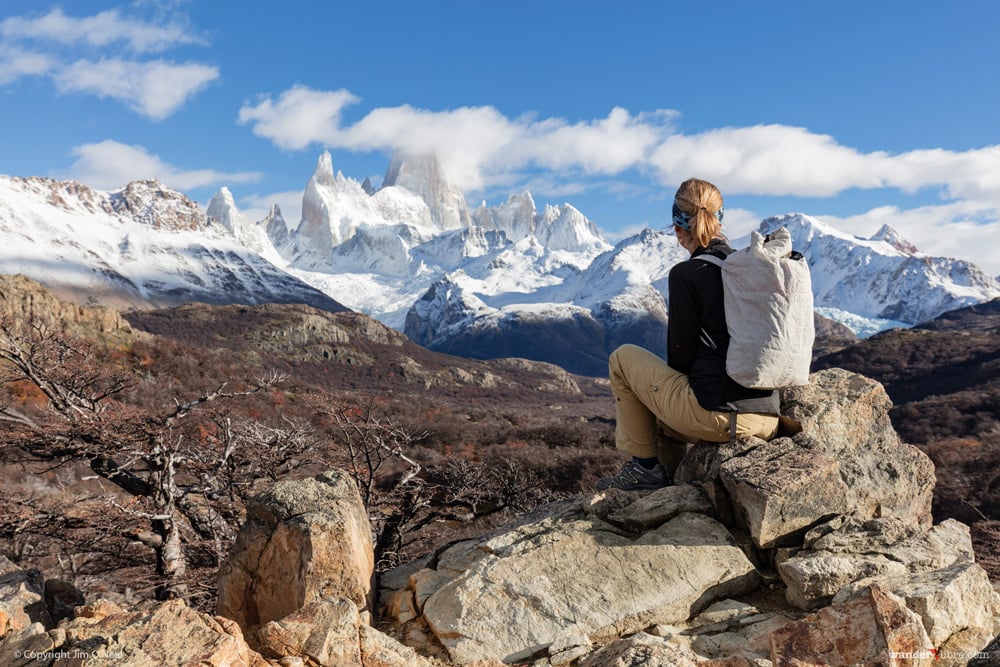 From the Fitz Roy lookout, the trail continues at a leisurely grade as it passes through forests before opening into a broad valley with panoramic views of the mountain. In dry conditions, the moderate terrain is ripe for fast hiking, although after five days of heavy rain, our pace was slowed as we negotiated long sections of muddy, waterlogged trail.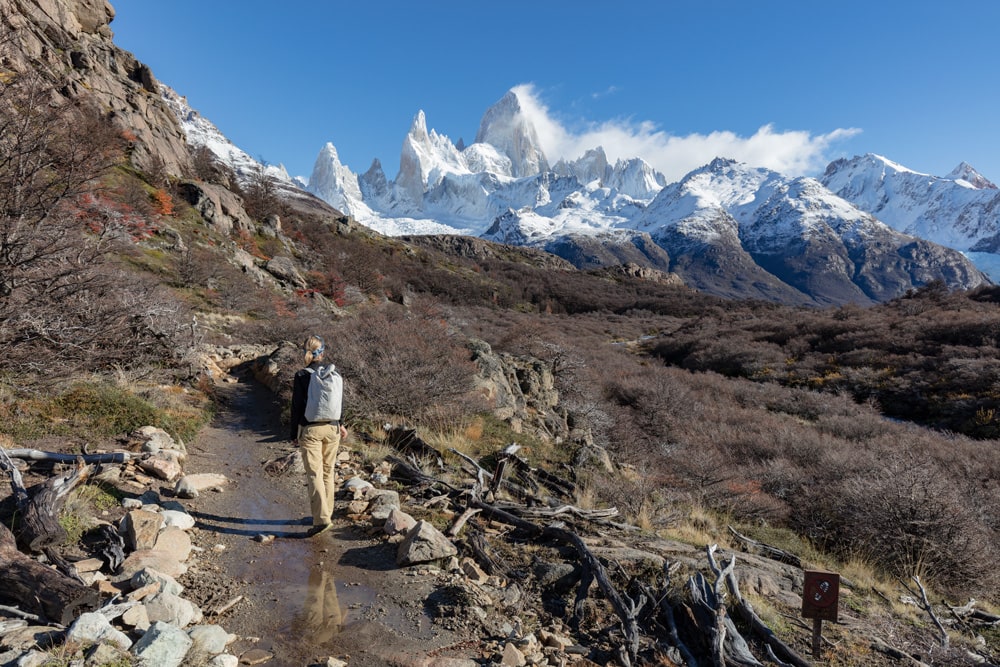 One of the lovely things about hiking Laguna de Los Tres is ever-present Mount Fitz Roy, which looms in the distance for much of the hike. It's an extraordinary backdrop as the trail meanders along the valley, occasionally disappearing into stands of forests before opening to even more stunning mountain views.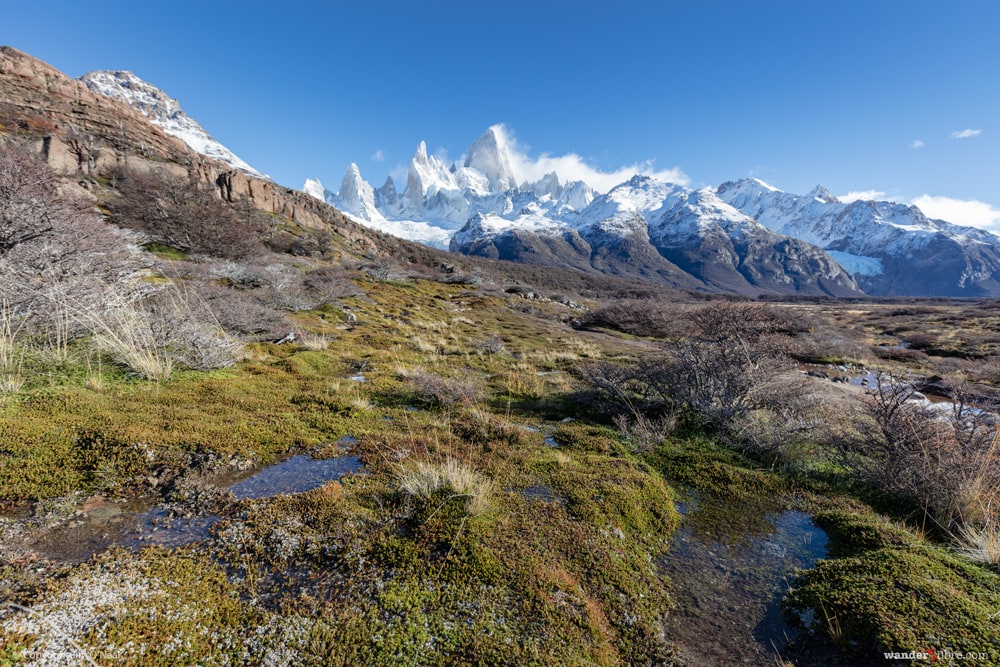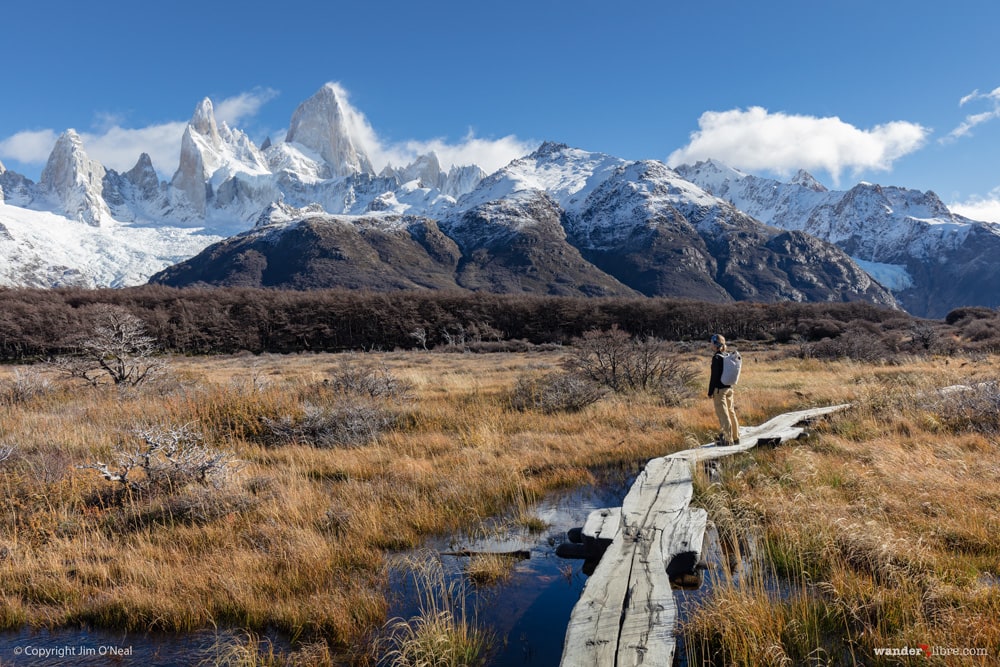 At km 8 the trail reaches Poincenot campground. It's a picturesque spot to stay the night and offers an opportunity to extend the hike to 2 days. If we return, this is something we'd consider, as camping at Poincenot presents a chance to reach Laguna de Los Tres for sunrise. In good weather, it would be a perfect photo opp.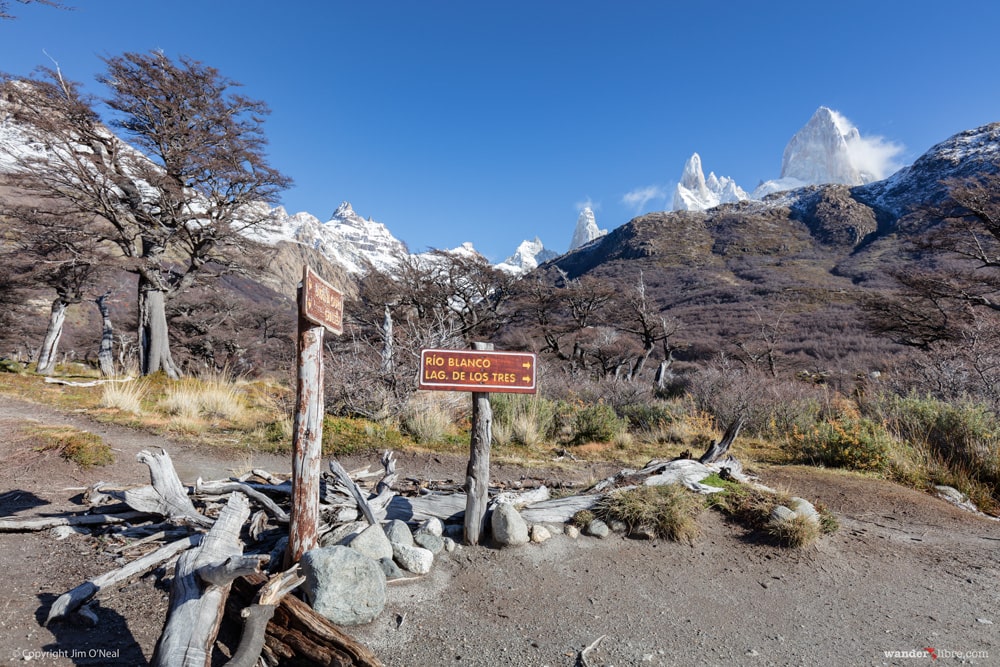 From Poincenot, the trail crosses a crystal clear river (perfect for refilling your water bottle) before starting a steep 2 km ascent to the Lagoon. By far the most challenging leg of the hike, it's a rocky and relentless climb that eventually took us above the snowline. The fresh snowfall made the final third of the ascent particularly beautiful, although it was slippery and slow going.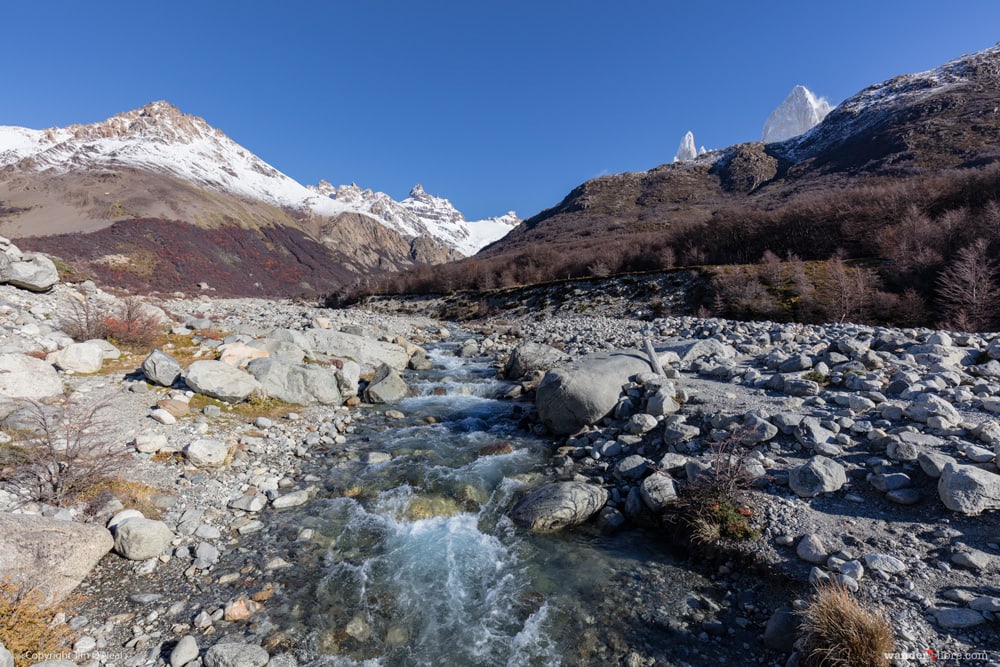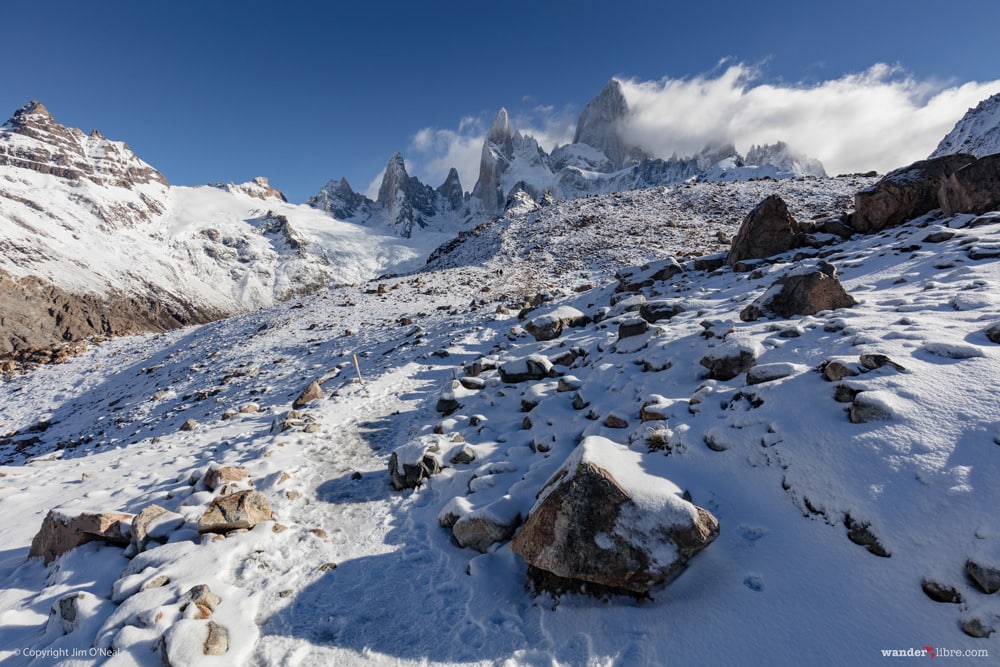 With our late start, we reached Laguna de Los Tres just in time. The sun was fading, and within 30 minutes it slipped behind the mountains, casting the mirror-like lagoon in dark shadows. While the light didn't last long, the view of snowy Mount Fitz Roy was extraordinary. Laguna de Los Tres is a fitting destination for a hike defined by never-ending superlatives. It's no wonder Patagonia's logo (the clothing company that is) was inspired by Fitz Roy. It's a truly majestic place.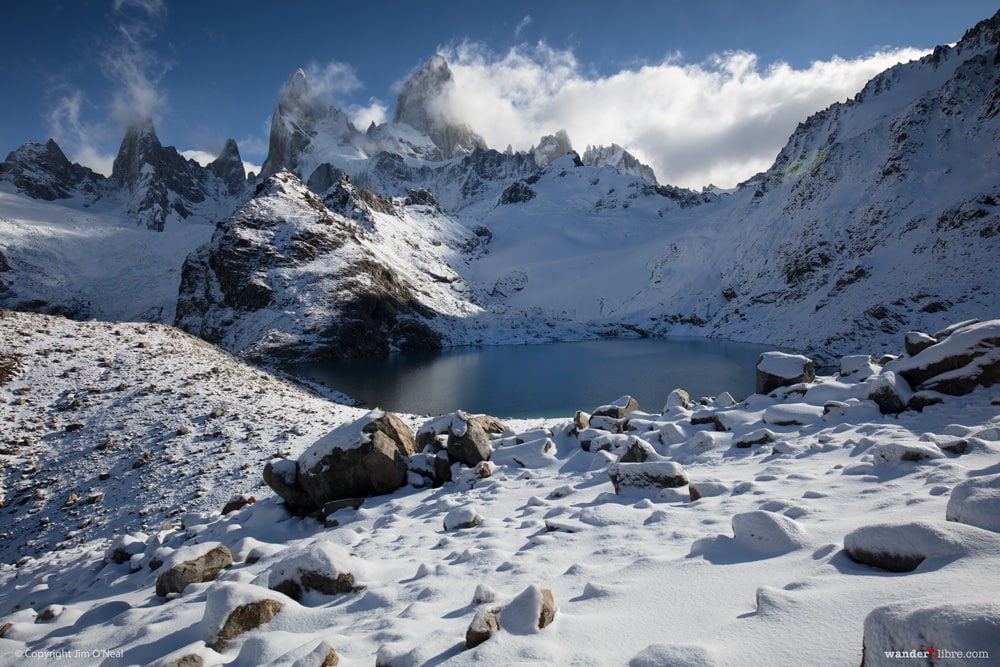 The return to El Chalten was faster/easier as we descended the steep sections we'd climbed on the way up. We made it back to town shortly after sunset, just before it was completely dark. The total round trip took us a leisurely 8 ½ hours, a reasonable amount of time given the number of stops we made for photos, and the slow pace required to negotiate muddy sections in the valley and snowy conditions around the lagoon.
How to Make the Most of Your Trip
Consider Extending the Hike to Two Days
You can do the round trip to Laguna de Los Tres as an 8-10 hour day hike. If we did it again, however, we'd seriously consider extending to two days by camping overnight at Pioncenot campground. Not only does this break the hike into two easy days, but it also positions you in a perfect spot to reach Laguna de Los Tres by sunrise.
Build in Some Rain Days
Monitor the forecast, and if time permits, build-in some buffer days as it's not uncommon for Fitz Roy to be shrouded in thick clouds. It's possible to use the extra time for shorter hikes or to explore the surrounding area, including Lago del Desierto.
Don't Miss Perito Moreno Glacier
The easiest way to get to El Chalten is via El Calafate (see Planning & Logistics below). There's a reason El Calafate is the area's tourist hub. And that reason is Perito Moreno Glacier. Located 48 miles from El Calafate, Perito Moreno (one of the only advancing glaciers on earth) is an extraordinary site, which is convenient to reach by car or via one of the many bus tours available in El Calafate. What we like best about Perito Moreno is that it's accessible by a boardwalk, which offers an up-close-and-personal view of the glacier as it creaks and groans it's way forward. It's not uncommon to witness giant building-sized pieces of ice calving off into the water below.
Pack Light But Bring a Camera
Laguna de Los Tres isn't a particularly strenuous hike. It is, however, an 8-10 hour walk that includes two notable climbs, so you'll benefit from keeping your pack as light as possible. Just don't forget your camera as this is one hike where you'll feel compelled to pull it out often!
Planning & Logistics
When to Go
The general trekking season runs from October to April, although we met travelers who hiked Laguna de Los Tres in July. We'd recommend mid-April as winds are lighter, there are fewer hikers, and the forests are ablaze with red and orange fall foliage. We hiked nearby Torres del Paine 'W' trek mid-April, which worked out very well. The downside is that days are shorter than December/January, meaning less time to walk and enjoy the stunning scenery.
Money & Supplies
While El Chalten offers basic services including groceries, fuel, and ATM's, we'd recommend stocking up on these items in larger El Calafate. Groceries are more expensive in El Chalten, and the ATM's have been reported to run out of cash during peak periods (one was out of service when we visited). For peace of mind, try to bring enough cash with you if possible.
Getting to El Chalten
El Calafate is the area's primary tourist/transportation hub with regular flights from Buenos Aires. From El Calafate, it's 130 miles to El Chalten. If you have a car, it's an easy 3-hour drive along good tar roads. There's also regular bus service between the two towns which drops off at El Chalten's bus terminal. From the bus terminal, it's possible to walk anywhere in town.
Lodging
There are lots of lodging options available including many hostels and a handful of campgrounds. If you're traveling in a camper, it's also possible to free camp, however, be sure to check ahead as restrictions change. For most of our time in El Chalten, we stayed at Patagonia Hostel, which was comfortable, clean, and friendly - I would recommend. The rest of the time, we free camped in our Land Cruiser at the Laguna de Los Tres trailhead. Recently, however, we've heard reports that camping is no longer allowed at the trailhead, but it may still be possible to camp across from the visitor center. If you do decide to camp, there are toilets at the bus station (open 24 hrs). An excellent source of updated information on camping spots is iOverlander.com.
What to Bring
As noted above, we kept our packs as light as possible while still carrying a good camera and appropriate layers for potential cold/wet/windy weather. Here's a rundown of our packing list:
Day Packs (1 each)
We took our Hyperlite Metro Packs as they're strong, very light and highly water resistant (near waterproof), which makes them perfect for keeping weight down and rain away from our camera and other gear.
Water Bottle (1 32 oz each)
The visitor center confirmed the water in the glacier fed streams is potable. To keep weight down, we packed a 1-liter Platypus bottle each and refilled in a river above Poincenot campground.
Headlamp (1 each)
We each carried a headlamp in case we were caught in the dark (this almost happened since we started only 8 hrs 15 min before sunset).
Sunscreen (1 small bottle)
Talk to local guides and many are quick to tell you there's a hole in the ozone layer just above Patagonia. We carried a small bottle of SPF-50 sunscreen.
Waterproof Jackets (1 each)
Patagonia's weather is fickle at best and waterproof wind protection falls at the top of our gear list on any hike. I carried my Arc'Teryx Beta LT, and Sheri packed her ultra-light Patagonia M10.
Down Jacket (1 each)
Pretty much always in our packs, we carried our Patagonia Ultralight Down Sweaters, which came in handy when the sun dropped behind the mountains at Laguna de Los Tres.
Themal Layer (1 each)
We both took a Patagonia Cap 4 top, which is the one layer that stayed on all day.
Synthetic T-Shirt (1 each)
We both wore Patagonia Lightweight Capilene T-Shirts. One of our favorite pieces of clothes for hiking, trail running, and travel.
Hiking Pants
Since the weather was good, we chose to wear Patagonia Ten Penny Pants (Jim) and Kuhl Kontra Cargo Pants. Our choice worked out fine. That said, given Patagonia's notoriously variable weather it's probably a good idea to carry something better suited for wind and rain.
Socks (1 pair each)
Nothing too exciting. Just some overly ripe Smartwool merino wool socks, which worked great.
Trail Shoes (1 pair each)
We both wore Salomon trail shoes although one of us wore waterproof and the other didn't. All I'll say is that the person wearing the waterproof version was far happier along the wet and muddy trail through the valley and the snowy section by the lagoon.
Phone (1)
We carried an iPhone mainly for the extra camera and to keep time.
Camera (1)
We've grown to hate carrying heavy DSLR's on hikes and these days usually leave it behind to save weight. Laguna de Los Tres is a notable exception as the scenery is simply stunning. We carried a Canon 5DSR with a 24-70mm f2.8 but decided to forgo a tripod. That said, if you're serious about photography and expecting good weather on the day of your hike, a lightweight tripod might be worth the extra weight.
First Aid Kit
We always carry a small homemade first aid kit with basic items like ibuprofen, blister care, bandages, etc.
Snacks / Lunch
Nothing special here. We went with our hiking favorite: A combination of wraps – some made with tortilla shells filled with banana and Nutella and other with Nutella and peanut butter. Simple but delicious.
If you have any question, feel free to use the "comments" section below or drop us a line through our "Contact Us" page.
Interested in learning more about things to do in South America? Click here to read our post on 10 exciting things to do and see across the continent.
SaveSave