There are endless ways to explore the world. For years, our travels made good use of airline tickets and a couple of backpacks. Then, in 2005, we discovered overlanding and soon after we departed England for Africa – our first overland trip. Today, we still travel by many means. Overland travel, however, has become our preferred means of exploring the world. With that in mind, we'd like to share a few thoughts on 'Why We Overland.'
But first, for those unfamiliar with overland travel, here's a little background: Overland Journal describes overlanding as "self-reliant adventure travel to remote destinations where the journey is the primary goal. Typically, but not exclusively, accommodated by mechanized off-highway capable transport (from bicycles to trucks) where the principal form of lodging is camping; often lasting for extended lengths of time (months to years) and often spanning international boundaries. While expedition is defined as a journey with a purpose, overlanding sees the journey as the purpose."
Overland Journal does a nice job of summarizing the essence of overlanding. Nothing peaks our wanderlust like picking a point on a map - somewhere exotic and unimaginably far away - and preparing for a journey into the unknown. A journey that's perhaps by bicycle, motorcycle, Ural sidecar, or expedition equipped 4WD. The type of journey that swaps rigid timelines, carefully planned itineraries, and long bucket lists for a well-worn map, rough plan and an intense desire to explore as much of the world as possible. That's the essence of overlanding.
There are lots of reasons to travel overland. Here's a list of our top five:
1) Travel Overland Provides Go Anywhere Freedom
If travel is about exploring the world then overlanding is about go-anywhere freedom. Anyone with enough determination and patience will find a way to go pretty much anywhere, even if not in their own vehicle. What sets overlanding apart is the anytime, anywhere flexibility that having a self-sufficient go-anywhere capable vehicle affords. Presenting countless adventures, overland travel means many things: It's about being able to venture well beyond the beaten path, or where there's no path at all; It's about departing when you want, in the direction of your choice; It's about the freedom to stop along the way as often as you like, for as long as you like; It's about having the flexibility to explore that path you happen upon - a path that peaks your curiosity and beckons you for a closer look; It's about staying longer in places you like and departing early from those you don't. No tickets to buy, transportation schedules to follow, or hours spent waiting for rides.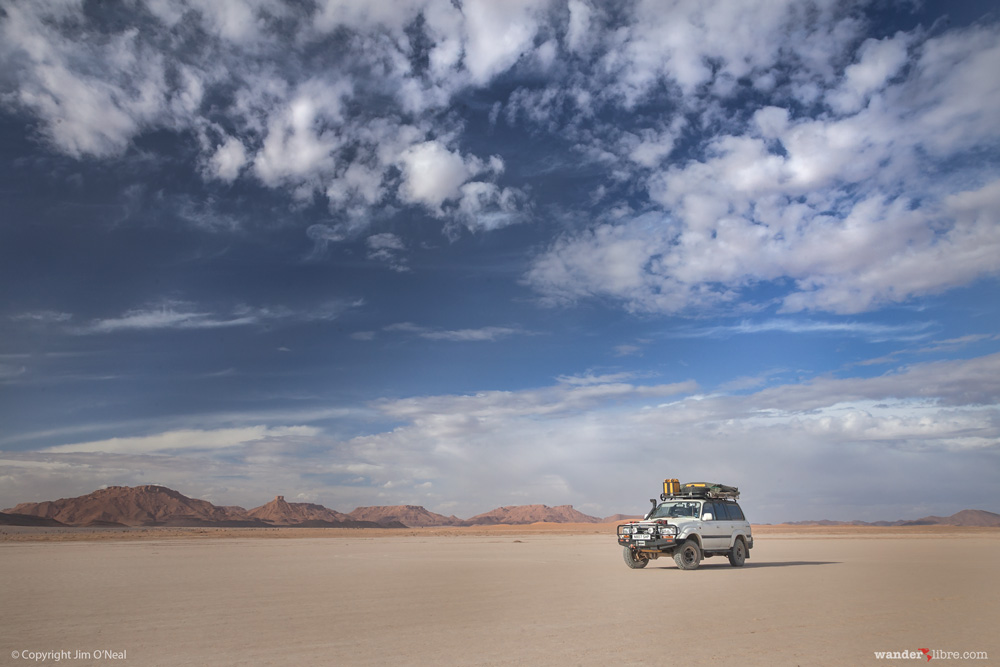 2) The Extraordinary In-Between
I've often noted that one of the great things about our non-rev years is that our access to free air travel provided an opportunity to sample the world's cultural and geographic diversity. With each flight came another chance to collect a colorful piece of a vast world puzzle. If air travel provides pieces of the puzzle, then overlanding is the journey that connects all the pieces together.
Overland travel is defined by the journey. It's about exploring, not just once-in-a-lifetime destinations, but the extraordinary in-between. An in-between you probably didn't imagine, but are unlikely to forget. It's about discovering places beyond any bucket list - places not covered in guidebooks or included on guided trips. Places like Benin City, Nigeria, and Tabo, Cameroon. Places sometimes lacking curb appeal, but often dripping raw, unbridled experiences - highly coveted authentic experiences that invite you into the heart of a place. The sort of experiences seldom found along the beaten path. The sort of experiences travel's all about. Our post 'Dreaming of Africa' is based on such experiences - experiences gained during past overland journeys through Africa.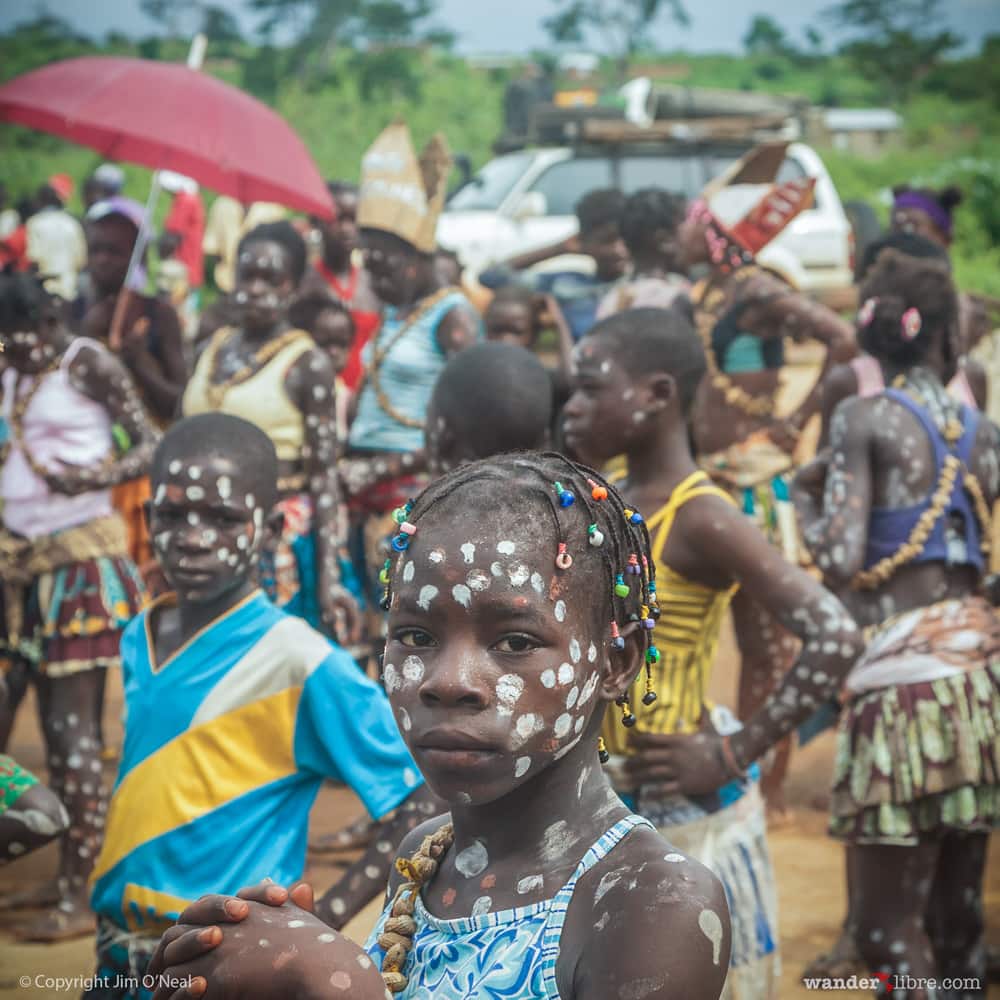 3) Tiny Home / Mobile Basecamp
Inherent in overland travel is self-sufficiency and being self-sufficient means traveling with what you need to live life on the road. In our case, that means traveling with all the comforts of an expedition tiny home. If I were to write a real estate listing for our current Land Cruiser it would read:
"Fabulous one bedroom, one bath loft with rooftop deck offering breathtaking oceanfront/mountain/forest/desert/ lakefront views. Stainless steel countertops. Gas range. Energy efficient refrigerator/freezer. Sea-Gull water purification system. Light and airy living area with plenty of windows and large skylight over kitchen, bathroom, and living room. Hardwood floors throughout. L-shaped seating, which converts to second bed. Gas heat. Outdoor shower. Solar electricity with diesel generator, and plenty of storage for fuel, water, food, and supplies – perfect for off-the-grid living. Home can be easily relocated to destination of choice."
One of the wonderful things about overlanding is the ability to bring your home along for the journey. Depending on the vehicle, home can be anything from a bicycle and a tent to a go-anywhere MAN Truck with all the comforts of a luxury RV.
Not only do we see our overland vehicle as a home and mode of transportation, but also a mobile base camp that enables us to explore the world in interesting ways. We love integrating other interests into our travels like kayaking, trail running, hiking, and wildlife photography. Our Land Cruiser is the perfect base camp to enable these activities. To illustrate, a perfect day of exploring might look something like this:
Location: Patagonia, Argentina
Camp previous night surrounded by majestic Andean peaks. Up early for a trail run through alpine forest before returning to car for a quick shower, breakfast and nice warm cup of tea. Break camp and setoff in Land Cruiser to explore the area. Along the way we discover a glassy blue lake, which beckons us for a closer look. We find a nice spot to stop and setup camp. Once settled, we setup Feathercraft kayaks, and go for a late afternoon paddle. Shortly before dark we return to camp and build a fire before enjoying a nice asado and a glass of Malbec under the stars. The next morning we get up early, go for a hike along the lake followed by another paddle and warm cup of tea before hitting the road to discover somewhere new.
This is something we love about overland travel and why we often travel in a Land Cruiser. It's a perfect go-anywhere vehicle that doubles as a comfortable home and mobile base camp that allows us to run, paddle, and hike our way around the world. And that's just our take. We've met countless overlanders out fly fishing, rock climbing, surfing, and doing just about anything else you can imagine. Whatever your passion, overlanding offers an excellent platform for exploring the world in your own unique way.
4.) Self-Guided Adventure
Overlanding is about being in the driver's seat - both proverbial and actual – and the adventure that accompanies being your own guide. It's the sort of adventure travel that demands self-reliance and rewards resourcefulness. It's about building the skills required to safely undertake the journey, facing the inevitable challenges you'll encounter along the way, and feeling the sense of accomplishment that accompanies being your own guide.
To draw an analogy, overlanding is like guiding your own African safari. To go it alone you'll need a capable vehicle and the know-how to drive and repair it in the bush. You'll need to be bush-wise with experience camping, wildlife tracking, and (importantly) avoiding being eaten or trampled by things that go bump in the night. Sure, there are easier ways to go on safari. Just book a tour with a luxury safari lodge or hire a guide. There's something very special, however, about being your own guide and undertaking all the challenges, responsibilities, and rewards that come with it. Overland travel is going on safari sans guide.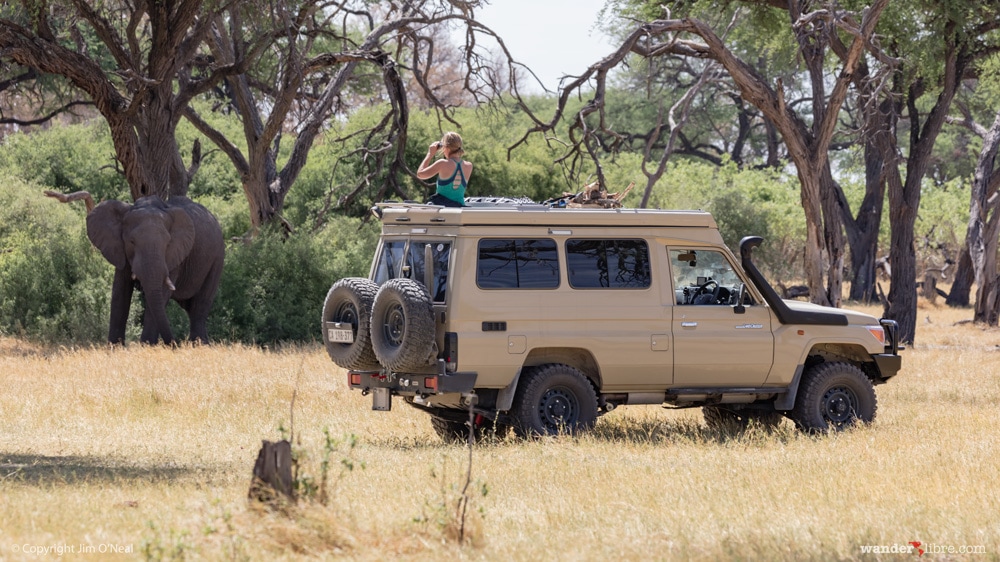 5) Unique Ways to Explore the World
Whatever your interest, there's an overland vehicle to meet your travel objectives. Once, in Malawi, we camped beside a Dutch woman traveling with her dog. She'd come all the way from Holland and was heading for the South Pole – on a farm tractor. We know of a Frenchman who crossed Siberia in winter riding a Ural sidecar and we met a couple who sailed up Africa's West Coast and then rode folding bicycles back to Cape Town. As I write this post, overlanders are crisscrossing the globe using everything from nimble folding bicycles to dune-conquering Unimogs.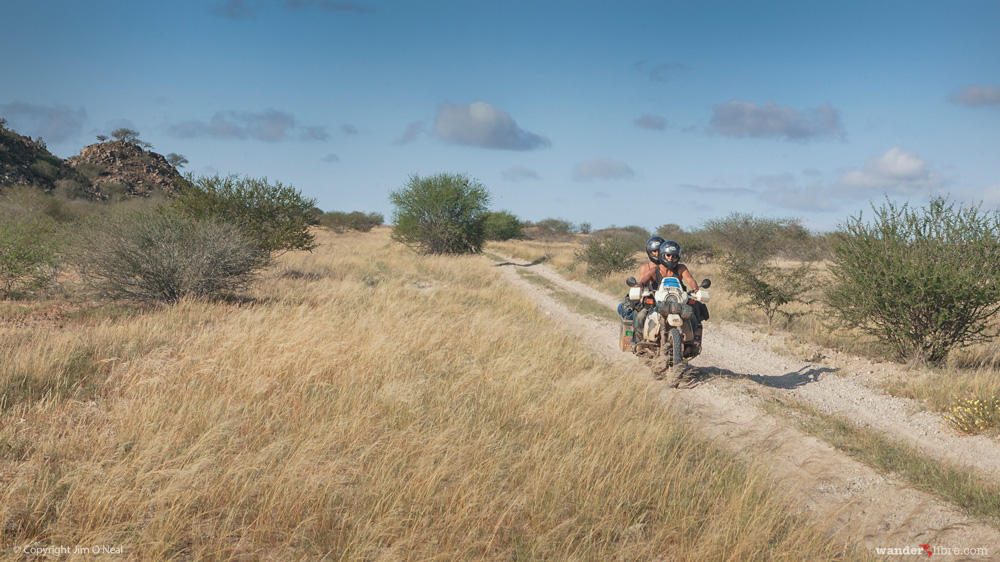 Overlanding presents so many ways to explore the world. Each way requires a special set of skills, presents unique challenges, strengths, and limitations while offering a new perspective on the world. Take, for example, two people who wish to travel for one year from London to Cape Town. If one chooses to ride a bicycle and the other chooses to drive a Unimog, they'll have very different trips despite beginning / ending in the same place. The Unimog can cover more ground, carry gear like kayaks, and enter game reserves like the Serengeti. The bike presents greater physical challenge, a closer connection to the environment, and increased mobility (toss it in a dugout canoe, on a plane, ride it down a footpath, etc.). And that's just scraping the surface of their differences.
So many ways to travel overland presents so many new ways to see the world. We love this diversity. It's what inspired us to travel on motorcycles, and it's an endless source for dreaming as we conjure up future adventures.
If you've already discovered overland travel and share our passion, we'd love to hear from you. Send us a message via the comments section below. We look forward to hearing why you travel overland.