Exciting Safari Adventures from Morocco to South Africa
From hanging with orangutans in Borneo to swimming with playful dolphins in New Zealand and photographing bears fishing in Alaska, the world presents a seemingly endless array of opportunities to experience its wild heart. And of all the earth's wild places, there's no place quite like Africa to have a safari adventure.
There's something special about wild Africa that's hard to put into words. Perhaps it's the extraordinary biodiversity. Perhaps it's the iconic African sunset or Africa's call of the wild. Perhaps it's the image of hundreds of elephants along the Chobe River or thousands of wildebeest and zebras crossing the Maasai Mara. Or perhaps it's that intangible feeling of being on safari - overlooking the Okavango Delta or some other mesmerizingly beautiful landscape where you find yourself sharing a sundowner with close friends as a blood orange sun slips below the horizon.
Whatever it is, Africa's call of the wild is undeniable. Once you've felt it, it's a call that's powerful enough to be heard anywhere on earth. No matter where we find ourselves, a little part of us is always back in Africa, on safari in someplace wild, living among lions, elephants, and hyenas.
In the coming months, we look forward to sharing tips and advice on Africa's wild places to help you plan your Africa vacation. As a prelude, we've put together a quick list of nine of our favorite wildlife experiences across the continent. Far from exhaustive, it's a list that I hope hints at the diverse array of experiences Africa has to offer.  If you've been looking into where to go on safari in Africa, we hope this list will provide some inspiration.
Trekking with Gorillas and Chimps in East Africa
There's a spine-tingling sensation that accompanies the intense gaze of an inquisitive mountain gorilla or the piercing cries of a group of chimpanzees. Perhaps it's the product of making a momentary connection with a wild animal that's so closely related to us.
Along with orangutans, the opportunity to see gorillas and chimpanzees in the wild is one of those 'once in a lifetime' experiences that's hard to compare with anything else. Across Africa, there are a number of places that offer the possibility to see both, however, in most places the probability of a successful sighting is far from guaranteed. In places like Ghana, Gabon, and Congo, we've spent many hot and sweaty hours searching rainforests in hopes of a quality sighting. Sometimes we've been lucky. Sometimes we haven't.
East Africa, however, is an exception. A handful of places in Tanzania, Uganda, Rwanda, and the Democratic Republic of the Congo offer excellent prospects of exceptional sightings. Below, you'll find a list of the top places to see chimps and mountain gorillas by country. Included in our list is Gambe Stream, where Jane Goodall conducted her chimp research, as well as Kibale National Park and Volcanoes National Park, which we can highly recommend from personal experience.
• Gombe Stream National Park, Tanzania (Chimps)
• Kibale National Park, Uganda (Chimps)
• Bwindi Impenetrable National Park, Uganda (mountain gorillas)
• Volcanoes National Park, Rwanda (mountain gorillas)
• Virunga National Park, the Democratic Republic of the Congo (mountain gorillas)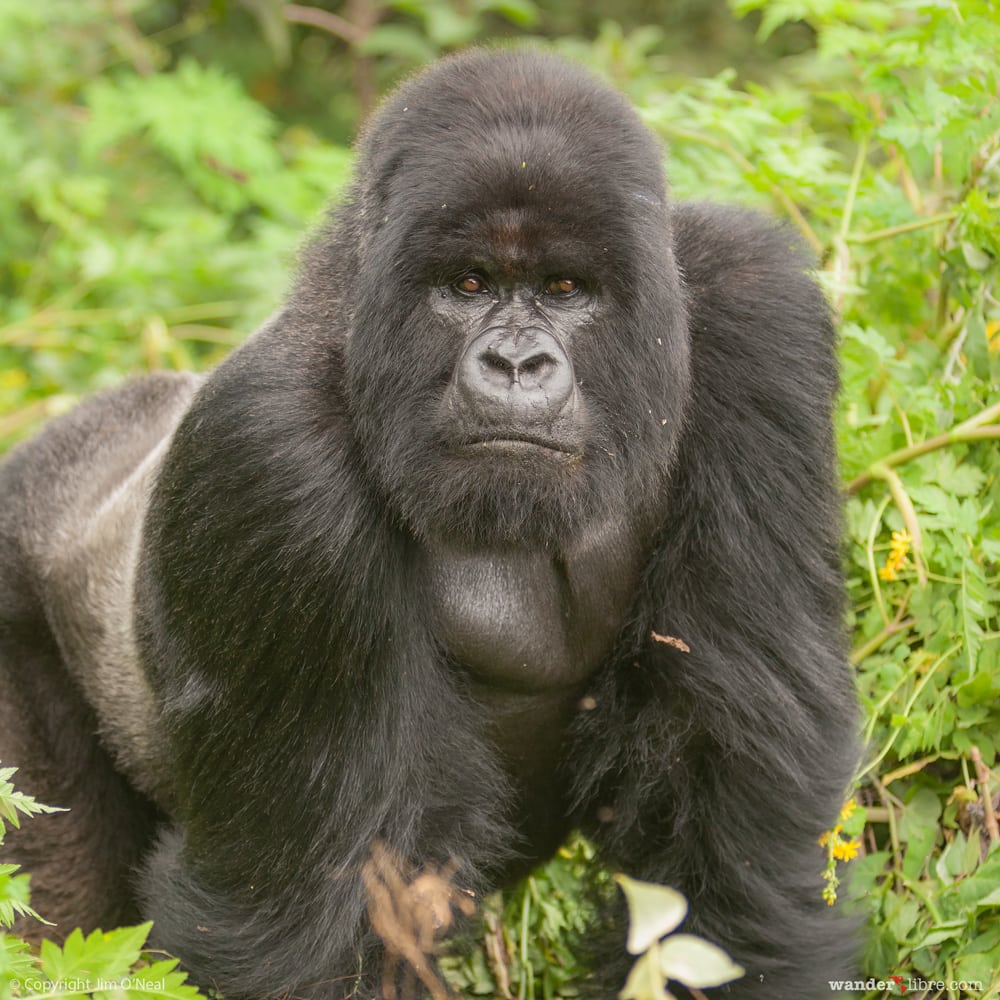 Walking on the Wild Side in Zimbabwe
Taking a walking safari anywhere in Africa is magical. Walking safaris present the opportunity for a more intimate encounter with wild Africa. A level of intimacy that's only possible by stepping beyond the noisy confines of a safari vehicle. It's an opportunity to immerse one's self in Africa's call of the wild. To tread quietly amongst majestic flora and fauna or sit in silence along a glassy pool where Nile crocs and African skimmers fish for breakfast.
Zimbabwe's Mana Pools National Park is our preferred spot for walking safaris. Located along the Zambezi River, Mana Pools exudes wild. It's the type of place where we've come to expect the extraordinary. A place where hyenas, elephants, and hippos pay daily visits to our camp and where we've witnessed an impressive number of kills.
And for walking, Mana Pools is unique among Africa's big-game reserves. It's the only place that allows visitors to explore the park on foot – not only with a park ranger or guide but, for those with the necessary experience, it's possible to walk unescorted as well.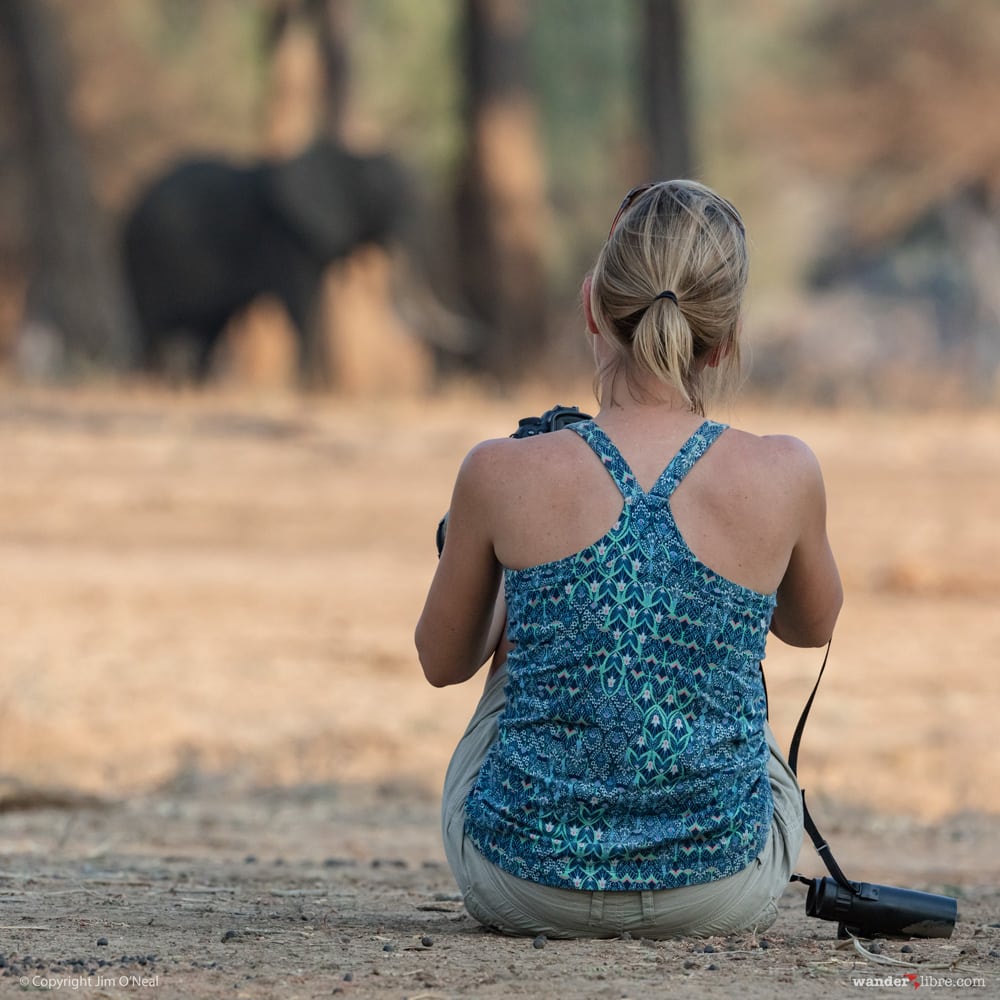 Following the Wildebeest Migration Across Kenya and Tanzania
Spend much time watching wildlife programs on Discovery, BBC, or National Geographic, and you've likely come across documentaries chronicling the dramatic interplay between predator and prey, which is the wildebeest migration. Without question, it's one of nature's greatest spectacles – a seemingly endless processional of more than a million zebras, wildebeest, and antelopes – predators in tow – migrating across the Maasai Mara and Serengeti in search of food.
To witness the migration is to experience nature at its most dramatic. It's an unbridled glimpse into the cycle of life as herd's court, mate, and give birth while running a relentless gauntlet of Africa's greatest predators. It's a gauntlet that comes to a climax around July when the migration crosses the croc-infested Mara River and engages in a life-or-death dash to better grazing on the other side.
There are many ways to see the migration ranging from luxury tented camps to independent travel in your own 4x4. The trick is to ensure you're in the right place at the right time as the herds travel between the Serengeti in Tanzania and Kenya's Maasai Mara. To learn more, check out more detailed information at go2africa.com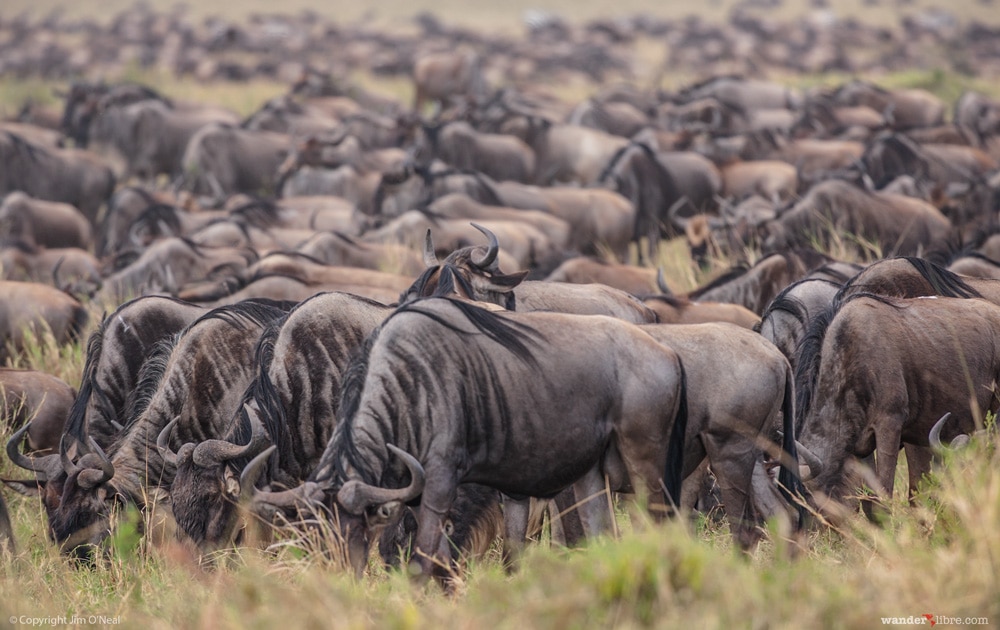 Searching for Elephants, Leatherbacks, and Hippos on Gabon's Atlantic Coast
Ever since reading National Geographic's account of biologist Mike Fay's 1,200-mile walk through Central Africa's rainforests – a story that ends on a deserted stretch of Gabonese coastline where forest elephants roamed sandy beaches and hippos surfed the waves just offshore – Sheri and I have been endlessly fascinated with Gabon's wild coast. And no other place inspires more wanderlust than Loango National Park, an area Mike Fay described as Africa's last Eden. Loango National Park is a pristine coastal wilderness of white sand beaches, inky black lagoons, broad savannas, and lush forests.
During our first trans-Africa overland journey, we mounted an expedition to explore Gabon's coastal wilderness from Gamba to Loango National Park. It was a challenging journey across flooded savannas, through gallery forests, and along deserted beaches that culminated in an epic wildlife adventure like nowhere else in Africa. Camping along pristine white sand beaches, we worked our way north along the coast. Along the way, we discovered a wildlife paradise – sandy beaches crisscrossed by fresh elephant, leatherback, and buffalo tracks; placid lagoons dotted with chatty hippos; and forests alive with mangabeys, rock pythons, and dwarf crocodiles. It's a place unique in the world. A place that feels wild and remote in a way few places do. A true Eden in the heart of Africa.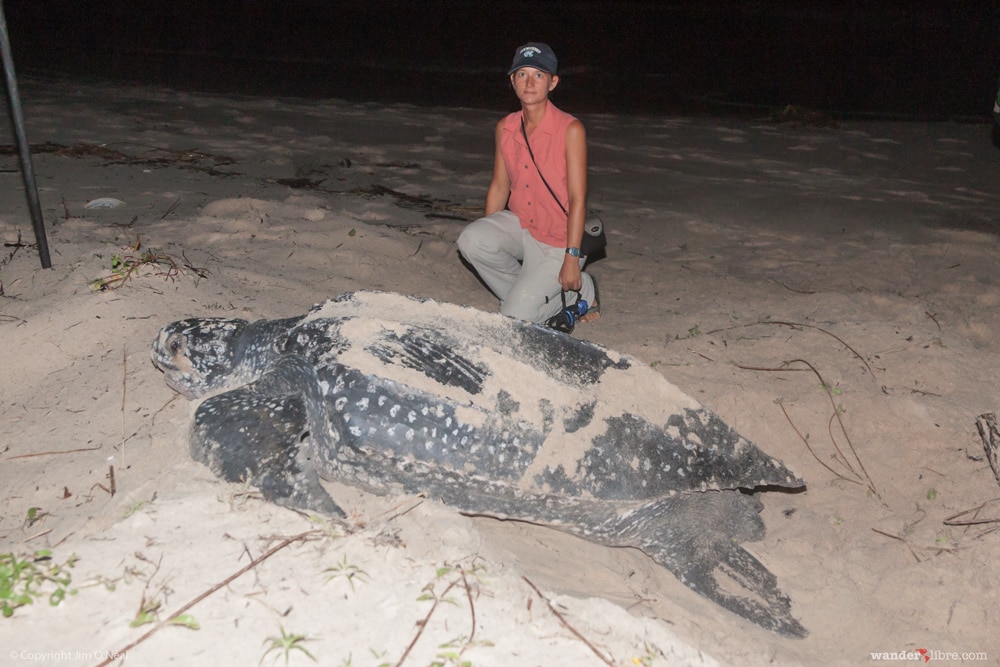 Exploring the Wildlife Rich Forests of Central Africa
If it's the plains of Kenya and Tanzania or Botswana's Okavango Delta that I think of for wildlife photography, then it's the rainforests of Gabon and Congo (Brazzaville) that come to mind when I think of wildest Africa.
Central Africa's pristine wilderness only begins at the coast. Head inland, and you'll find a combination of dense rainforests and rolling savannas that extend across vast swathes of middle Africa. Within Gabon and Congo (Brazzaville) a number of parks and reserves protect wilderness that's home to lowland gorillas, forest elephants, mandrills, forest buffalo, bongos, mangabeys and an abundance of other wildlife.
While spotting wildlife in these areas is more challenging than the reserves of Southern and East Africa, the opportunities for wildlife viewing in Central Africa compare with nowhere else. Some of the unique opportunities in Gabon and Congo's rainforests include: trekking with expert guides to find lowland gorillas; tracking/photographing mandrills; and observing forest elephants, gorillas, bongos, and other wildlife from an observation platform at Langoue Bai (Gabon) or Mbeli Bai (Congo). Truly unique experiences like nowhere else on the continent.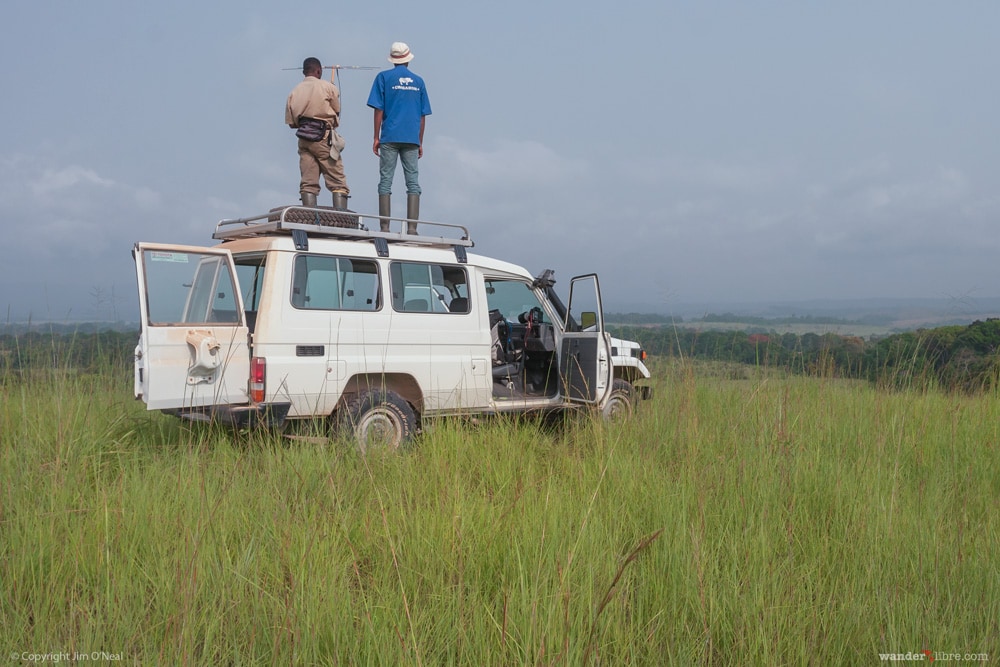 Diving with Giant Marine Life in Southern Africa
There's nothing like diving with sharks, rays, and other underwater giants. In Mozambique and South Africa, opportunities abound to snorkel or dive with whale sharks, manta rays, bull sharks, tiger sharks, Cape Fur Seals, and other marine life. You can even cage dive with great whites. Here are six incredible wildlife experiences unlike anything else in Africa.
• Snorkeling with whale sharks/diving with manta rays in Tofo, Mozambique
• Cage diving with great white sharks in Gansbaai, South Africa
• Diving with tiger sharks at Aliwal Shoal, South Africa
• Join the feeding frenzy during the sardine run (May/June) in Port St John's and East London, South Africa
• Snorkeling with Cape Fur Seals in Cape Town, South Africa
• Photographing great whites breaching in Simon's Town and Gansbaai, South Africa
There are many great dive and tour operators running these trips. As a starting point for your research, two that we've had good experiences with are Shark Diving Unlimited in Gansbaai and Liquid Dive Adventures in Tofo.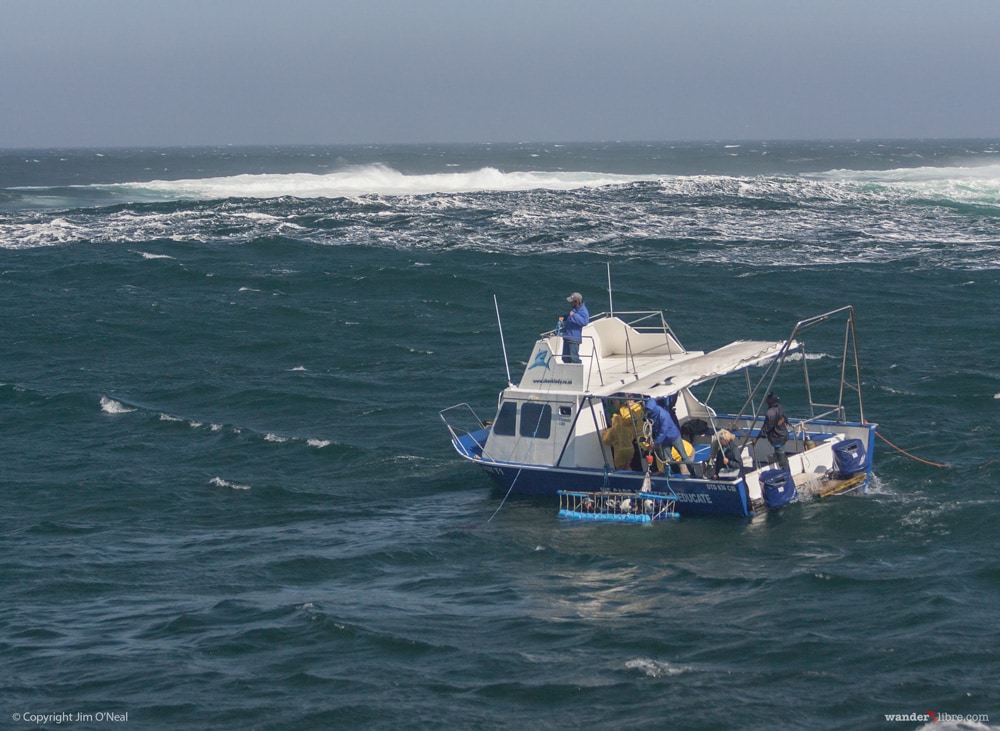 Camping with Desert-Dwelling Wildlife in the Namib
Extending along the Atlantic coast from South Africa, through Namibia, and into Angola, the Namib Desert is one of the oldest and largest deserts on earth. With towering orange sand dunes and a surprisingly diverse collection of desert-dwelling animal and plant species, it's a land of dramatic landscapes, which presents unique opportunities for adventure, photography, and wildlife viewing.
If you want to experience Namibia's wilder side, head for the Kaokoland. Our favorite area in Namibia, the Kaokoland is a place where wildlife roams beyond fenced reserves. One of Southern Africa's last great wildernesses, it's a rugged, remote, and sparsely populated land that's home to desert elephants, black rhinos, lions, and giraffe. Travel in the Kaokoland is an adventure that requires a self-sufficient 4x4 capable of negotiating sandy tracks, dry riverbeds, and rocky terrain. The type of place where you'll spend nights sleeping under the stars and where the journey is the destination.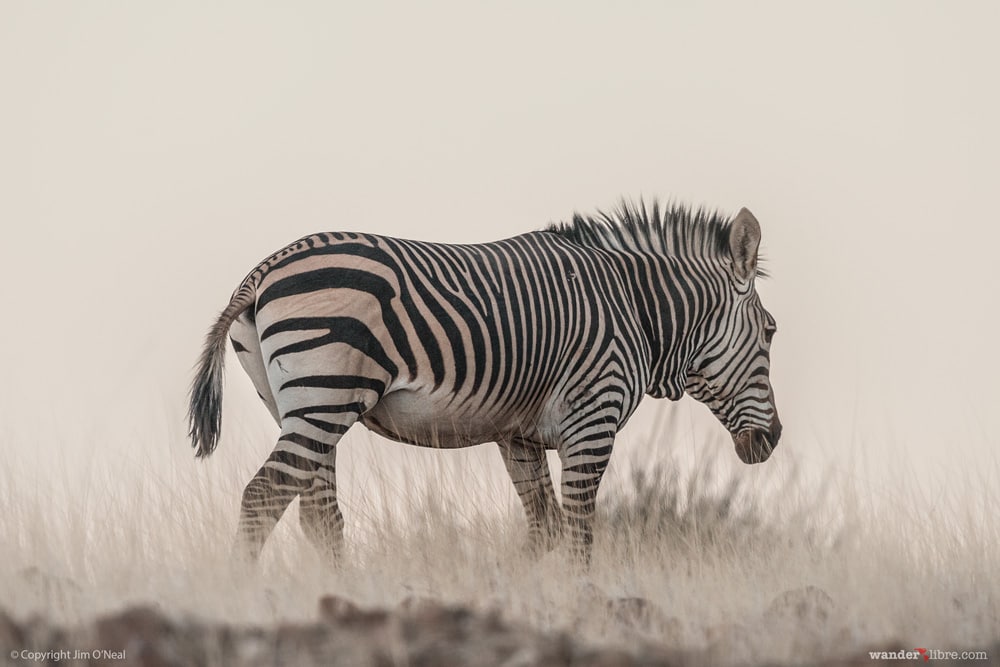 Watching Millions of Flamingos Take Flight Across the Rift Valley
The first time I saw flamingos at Kenya's Lake Nakuru, I was lost for words. It was as if the beautiful blue-green lake had been covered in a lively blanket of shocking pink – a beautiful, noisy, bustling, technicolor display of life as a seemingly endless sea of flamingos went about their daily routine.
While we've seen flamingos in many parts of the world, nowhere compares to Africa's Rift Valley. According to IUCN, there are an estimated 1.5 – 2.5 million flamingos in East Africa, with large concentrations of birds flocking to the alkaline (food rich) Lake Natron in Tanzania and lakes Nakuru and Bogoria in Kenya.
We visited Lake Nakuru in October, which proved a perfect compliment to the wildebeest migration in the Maasai Mara. During our visit, we saw spectacular numbers of flamingos, along with good sightings of rhinos, hyenas and other African wildlife.
Just remember, flamingos move between various Rift Valley lakes depending on food supply so be sure to do a little research before you go to make sure you time your visit to be in the right place at the right time.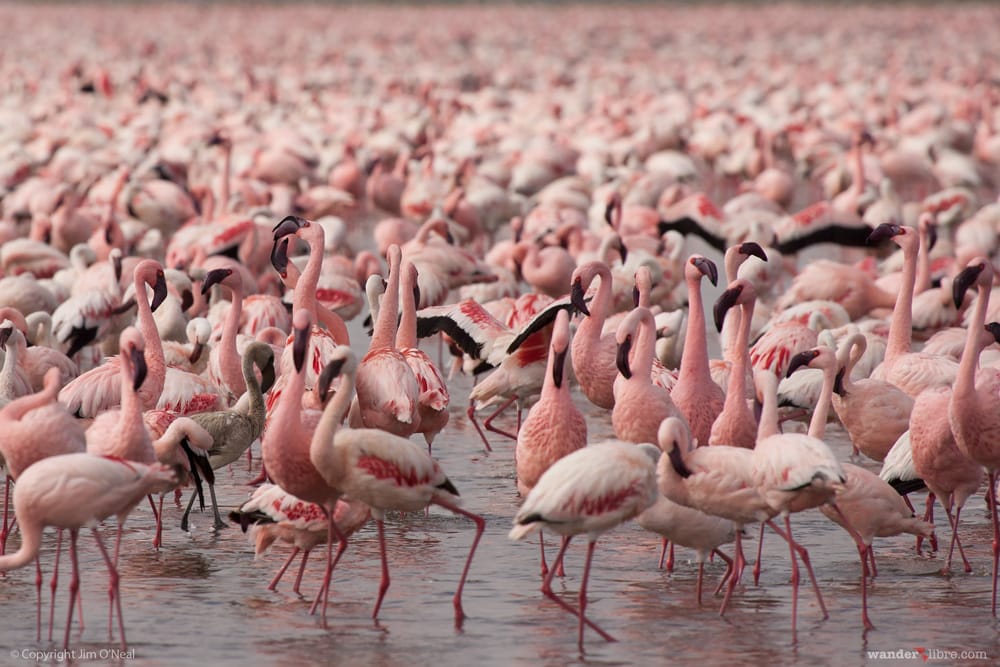 Crossing the Sahara's Endless Expanse
Compared to the wildlife-rich reserves of Southern and East Africa, the Sahara feels desolate. But what the Sahara lacks in prolific wildlife it makes up for in wilderness. A vast desert that extends across North Africa, the Sahara is one of the last great wilderness areas on the planet. It's a place characterized by rocky hamadas interspersed with dune seas that disappear along a seemingly endless coastline.
Traveling across the Sahara presents an opportunity to experience Africa at its wildest. It's an opportunity to experience solitude. To sleep under a spectacular canopy of stars. To travel by camel, negotiate great sand seas, relax on deserted beaches, and discover the unique lifestyle of Berbers and other tribes who make the Sahara their home.
It's also an opportunity to experience African wildlife that exists well beyond the boundaries of any reserve - wildlife that includes monk seals, blue whales, flamingos, puff adders, and scorpions.
There are many ways to explore the Sahara. We've met travelers on motorcycles, expedition outfitted 4x4's, and bicycles, among other things. We crossed the Sahara overland in our Land Cruiser across Morocco, Western Sahara, Mauritania, and Mali and by camel outside Chinguetti. Traveling in your own vehicle, however, is just one of many ways to see the desert. It's also possible to arrange organized trips throughout many Saharan countries from Morocco to Egypt. To learn more, check out Chris Scott's informative series of how-to guides on Saharan travel including Sahara Overland and Morocco Overland.
SaveSave
SaveSaveSaveSaveSaveSaveSaveSaveSaveSave
SaveSave